---
Retail Futures - Iterative and Disruptive
The retail industry is divided into two camps. The first (and biggest) camp is keen to improve operations within the exsisting paradigm of physical and omnichannel retail. The other camp, made up of a handful of visionary companies, is questioning the foundation of retail, from business models to the nature of customer engagement.
Join Episerver in this on-demand webinar together with their partner Avensia where they highlight world-leading examples of companies leading the way in both camps, and the advantages of their initiatives. You will leave the room with a new perspective on retail innovation, and a new understanding of the right approach for your business.
Speaker: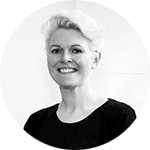 Cate Trotter - Head of Trends, Insider Trends
Cate has helped brands such as Chanel, Galeries Lafayette, Marks & Spencer, Swarovski, Fujitsu, Metro Group, Samsung, Jaguar Land Rover, Mercedes, Puig, Nike, Lego, Johnson & Johnson, Levi's and EE innovate to create world-leading retail ecosystems. Cate's experience of setting up two successful businesses in her twenties led to her being named a Future 100 and Startup 100 entrepreneur.