---
Webinars that Rocked, 2019 - EMEA
Event Information:
There are webinars, and there are webinars that truly ROCK!! On 12 December at 11:00 am GMT I 12:00 pm CET, Chief Webinerd, Mark Bornstein will highlight some of
This year you will see examples of:
Great webinar consoles
Amazing audience experiences
Webinar content hubs
Personalised digital experiences
Isn't it time that your marketing totally rocked. Register now and learn how.
Speaker: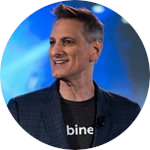 Mark Bornstein - VP of Content Marketing, ON24
Mark brings over 20 years of content marketing, corporate communications and account management experience at leading companies, including Cisco, GE Access and Compatible Systems. He has presented at many of today's biggest marketing conferences and, for the past six years, has been the host of the "ON24 Webinar Best Practices Series" webcast which has thousands of followers across the globe.
Timing:
Date: 12th December, 2019
Time: 11:00 am GMT I 12:00 pm CET
Duration: 1 hour